Scaled to suit any sized space from general offices, retail centres, medical practices, assisted living facilities, residential buildings and more.
*Available as a Floor Stand or Wall Mount unit.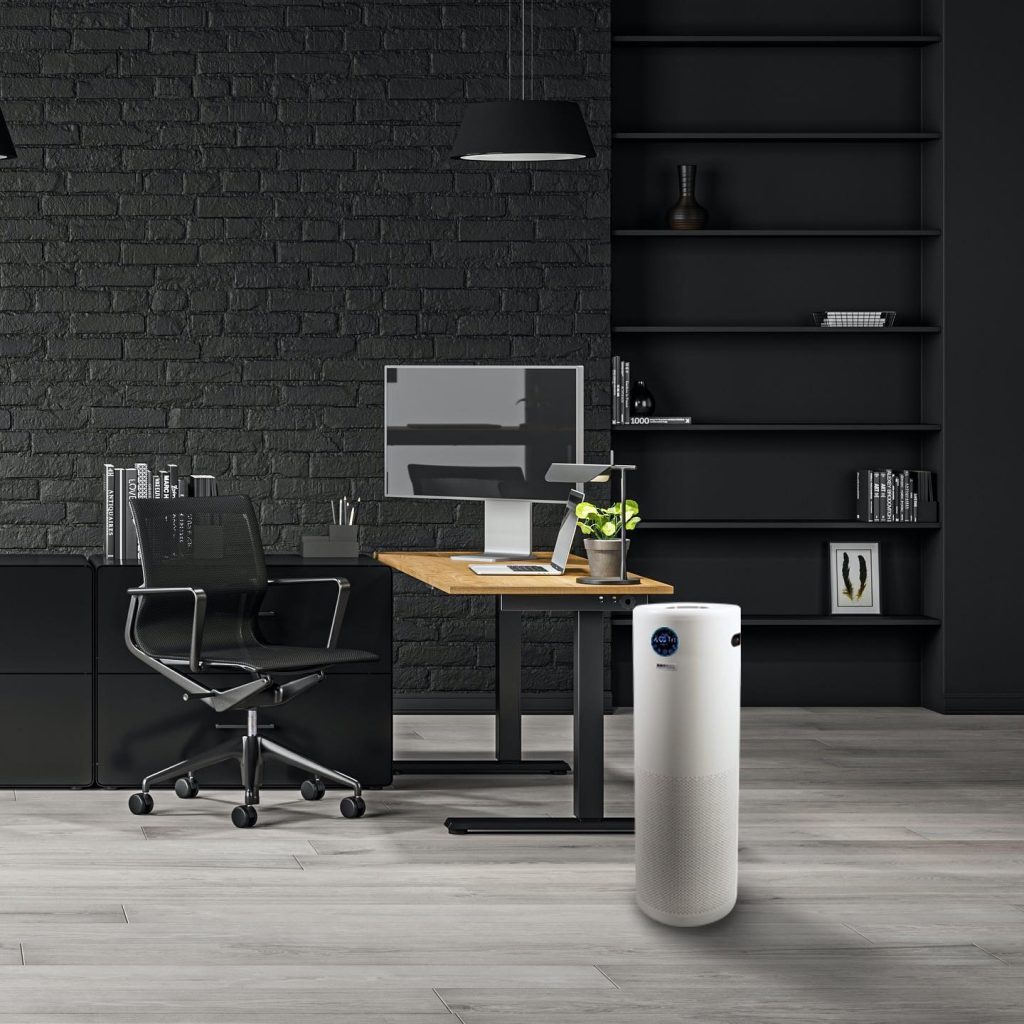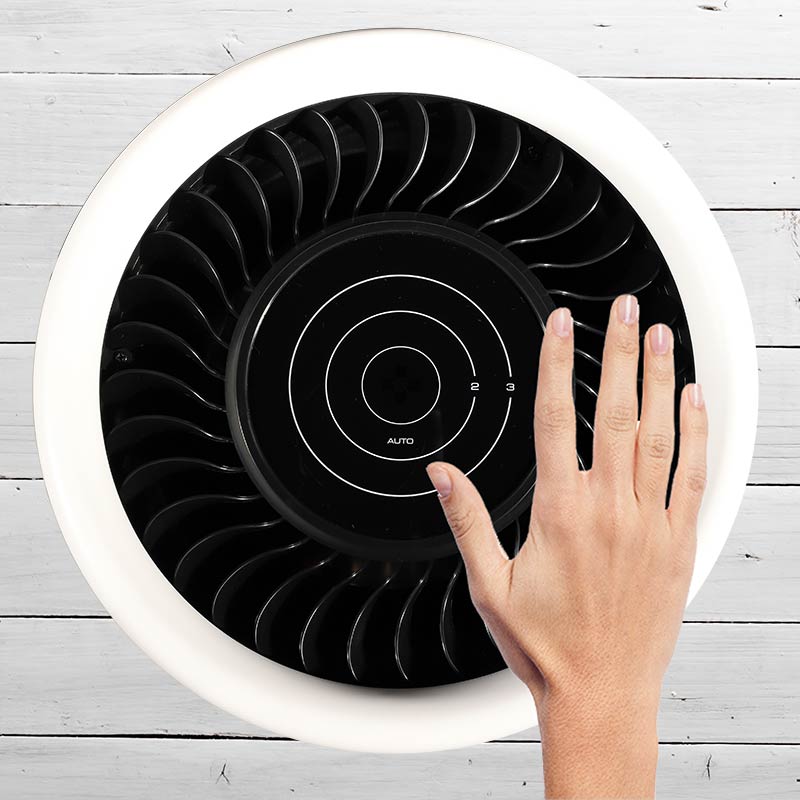 Utilizing powerful, multi-stage filtration technologies which remove airborne particulates, pathogens and pollutants giving you fresh, clean and re-energized air. The HEPA-RX filter removes >99.9% of airborne pathogens* at 300 cfm.
Engineered to maximize the rate of air changes. With the strength to provide purified, re-energized air in large rooms while being whisper quiet makes it perfectly suited for medical, commercial, or residential environments.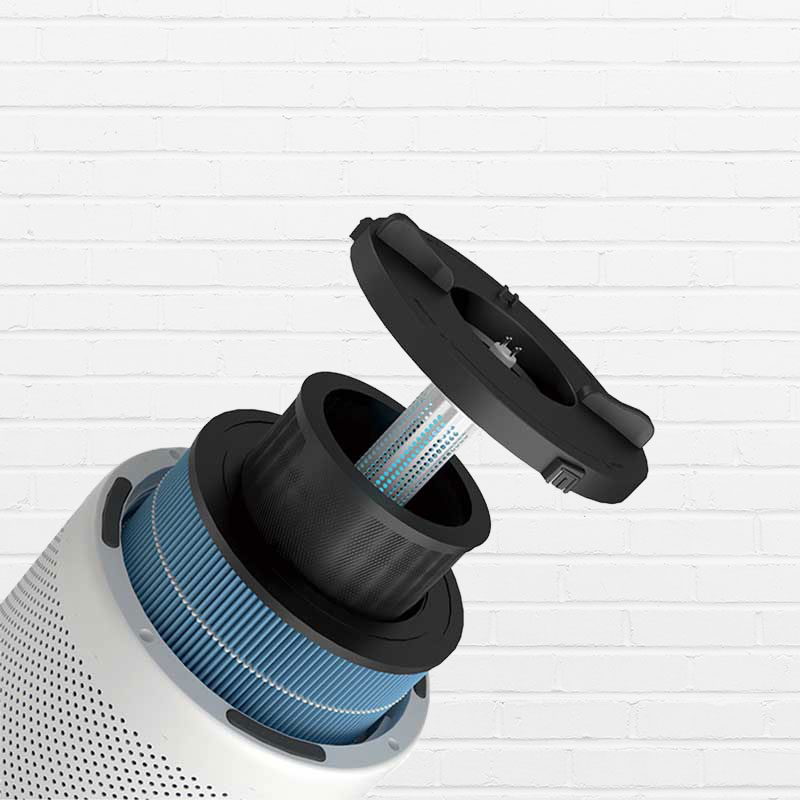 Exceptional Performance
A six-stage filtration removes up to 99.998% of viruses, bacteria, and airborne pathogens.

High Airflow
Clean and purify up to 2,000 cubic feet of space, with six air changes per hour.

Ultra Quiet
Sound-dampening design keeps decibel levels softer than normal conversation.

Touchless
Simple, hands-free activation helps prevent cross-contamination.

Real Time Monitoring
Easy-to-read displays show current air quality and particulate levels for peace of mind.

Low Operation Cost
Low energy usage makes JADE an affordable air purifying solution.
JADE 2.0 AIR PURIFIER
The JADE air purifier is a sleek, contemporary, and modern air purification system equipped with next generation air purification technology. The JADE 2.0 features an advanced intelligent control system with multiple display functions that give you accurate air quality readings in real-time. The precision sensors measure everything from micro-particles (as tiny as 0.01 microns wide) to volatile organic compounds (VOCs), current temperature and humidity. The automatic mode enables the unit to turn on and off automatically based on the PM2.5 concentration in the air. Innovative hand gesture wave technology enables touchless operation, preventing cross-contamination between users.
NEW & IMPROVED FEATURES
Improved design for enhanced performance and aesthetic appeal
Larger Control Screen – a more prominent display allowing for a clear visual of the real-time VOC, temperature, and humidity readings
Additional Display Functions translates the complex data of air quality into easy readings that matter most to you – PM2.5, Temperature, Humidity TVOC display, RH sensor & display
When on standby the system, enters a screensaver state with a display that shows real time readings of PM2.5, Temperature and Humidity
Timer setting -The timer setting helps you run the system for a predefined time frame and eliminates the worry of turning it off
Remote control – Giving you ease of access to control the system from a distance
Increased airflow capacity means a larger volume of air cleaned per minute
The UV lamp interlock switch is an enhanced safety feature that ensures the UV lamp is not activated without the filters installed
The ability to turn Negative ION on/off
MEDICAL-GRADE
Clinical research study shows that the Surgically Clean Air JADE air purification system has excellent performance in Hospitals, Medical Labs and Dental Clinics to clean and sterilize the indoor air. JADE air purification system is designed with medical settings in mind, to prevent the cross-contamination you can control the fan speed without any physical contact using hand wave.
PERFORMANCE
Air Flow Performance – Engineered to maximize the air change rate by moving large volumes without the air drag that often occurs in more inferior air purifiers, Unlike those other air purifiers, the top air outlet design allows air to cascade out the top and efficiently flow throughout the room while keeping the sound volume at an industry leading low level (~55DB). It's as quiet as a standard household dishwasher. Household quiet, but with the strength to provide healthier air in large rooms also – which is perfectly suited for medical, commercial, or residential environments.
TECHNOLOGY
The JADE air purification system utilizes Surgically Clean Air's multi-stage air purifying technologies that work together to clean, purify and re-energize the indoor air. The multi stage filtration system captures dust particles, pollen, volatile organic chemicals (VOCs), mold, allergens, viruses, odors (like formaldehyde and smoke), bio-aerosols, nitrous oxide, and many other pollutants that are found in the inside air in workplaces and residences.
COMFORT
The negative ion generator makes indoor feel more pure, clean and energized to help combat fatigue. For an air purifier to deliver its benefits throughout the indoor space it needs to move large volumes of air through its filtration system effectively without impacting those people that are closest to it by creating a 'breeze' or being too loud.
MAINTENANCE
JADE air purification system is designed to minimize the regular maintenance:

NOTE
: At the end of the day, turn off all units except one – this will extend the life of the consumables by 3x.
JADE AIR INSTRUCTION VIDEOS
We also offer Cascade Air which is our commercial grade UVC air disinfectant system