The Botanical Power Of
Bioesque
Bioesque is an unique botanical disinfectant solution that is capable of cleaning, sanitizing, disinfecting and deodorizing in a single step. This innovative disinfectant solution features a patented Thymox technology and a botanically derived active ingredient from thyme oil.
100% biodegradable and No VOC (Volatile organic compounds)
Ready to use full strength with no further dilution required
One-step disinfectant with bactericidal, virucidal, tuberculocidal and fungicidal efficacy
Approved by both Health Canada and EPA to be use against SARS-CoV2 (the coronavirus that causes COVID-19)
Disinfects, sanitizes, cleans and deodorizes a wide range of surfaces
Safe on food contact surfaces and no rinse or wipe required
Completely safe on fabric and does not cause discolouration
Non-corrosive, environmentally friendly and perfect for everyday use
Does not contain chlorine, phosphates, bleach or harsh chemicals
No PPE (personal protective equipment) required
Strong mold and mildew eliminator
Heavy duty odour eliminator
POWERED BY THYMOX TECHNOLOGY
The botanically derived active ingredient of the Bioesque botanical formula is Thymol, a natural component of thyme oil. Thyme plant has long been used by humans as a food preservative and is highly recognized as safe and effective botanical extract.
Thyme oil is listed on the 25B Minimal Risk Pesticide.
Thymol is a GRAS molecule (Generally Recognized As Safe) listed as a food additive in many countries
Thymol mode of action : induces instability in microorganisms' membrane, causing cell content leakage and death.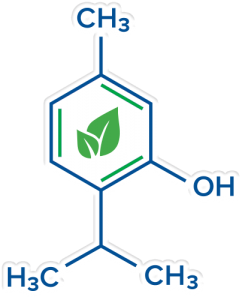 SPEED, STRENGTH,  YET GENTLE
With a formula that is free of bleach and other harsh chemicals, Bioesque's Botanical Disinfectant Solution is a great environmentally friendly choice. Powered by Thymox technology, it utilizes Thymol, a cutting-edge antimicrobial agent present as a component of Thyme Oil, to quickly power through grime and destroys the germs that it encounters. How efficiently does this professional-grade product work?
Kills 99.99 percent of viruses in one minute.
Kills 99.99 percent of bacteria in two minutes.
Kills 99.99 percent of fungi and molds in three minutes.
Kills Mycobacterium tuberculosis in three minutes.

BOTANICALLY DERIVED

NON-ABRASIVE FORMULA

CHLORINE FREE FORMULA

PHOSPHATE FREE FORMULA

EPA & HEALTH CANADA REGISTERED
Bioesque Efficacy
| | | |
| --- | --- | --- |
| | TIME | KILL LIST |
| Sanitizing > 99.999% | 30 Seconds | Staphylococcus aureus – Enterobacter aerogenes |
| Kills 99.99% of viruses | 1 Minute | Swine Influenza A (H1N1) – HIV-1 AIDS Virus – Human Coronavirus – Respiratory Syncytial Virus (RSV) |
| Kills 99.99% of bacteria | 2 Minutes | Staphylococcus aureus (Staph) – Salmonella enterica (Salmonella) – Pseudomonas aeruginosa (Pseudomonas) – Listeria monocytogenes (Listeria) – Escherichia coli (E. coli) – Escherichia coli (E. coli O157:H7) – Streptococcus suis (Streptococcus) – Vancomycin-Resistant Enterococcus (VRE) – Methicillin-Resistant Staphylococcus aureus (MRSA) – Klebsiella pneumoniae |
| Kills 99.99% of Fungi and Molds and Mildew | 3 Minutes | Trichophyton mentagrophytes (Athlete's Foot Fungus) – Candida albicans |
| Other | 3 Minutes | Mycobacterium Bovis BCG (TB; Tuberculosis) |
RECOMMENDED FOR USE IN:
This versatile solution can be used in various different applications and settings including both residential and commercial settings. Below are a list of common places that Bioesque solution can be used and applied.

SUITABLE FOR USE ON:
Bioesque can be used on an impressive array of surfaces. With a formula that is free of bleach and other toxic chemicals, it requires no special precautions or equipment to use.

Application
Bioesque is best applied by using an electrostatic sprayer as they use significantly less solution, have a faster application, reduced labour, and provide an even coverage. Alternatively, you can also use a trigger sprayer to apply. When used with a trigger sprayer, please ensure the surface remains wet for up to 55 seconds (for COVID-19) to allow appropriate dwell time.

Bioesque, A Perfect Solution For Gyms